InterMountain Management is proud to announce the re-opening of Fairfield by Marriott® Lawton, OK. The hotel has been closed for the last 18 months undergoing a renovation.
This 84-room hotel has long been a part of the Lawton community since its opening in May 2004. The property will now feature a mix of king and double queen rooms, as well as suites. The new guestroom design is thoughtful, unique and addresses the needs of Fairfield guests for a seamless experience. These rooms were designed to maximize modern travelers' productivity on the road without over complication.
The new décor package combines warm earthy colors with timeless, forward-thinking, and inviting elements that nod to the brand's rich heritage. At Fairfield by Marriott® Lawton, OK, guests will find the modern conveniences they need to maximize productivity and comfort while on the road.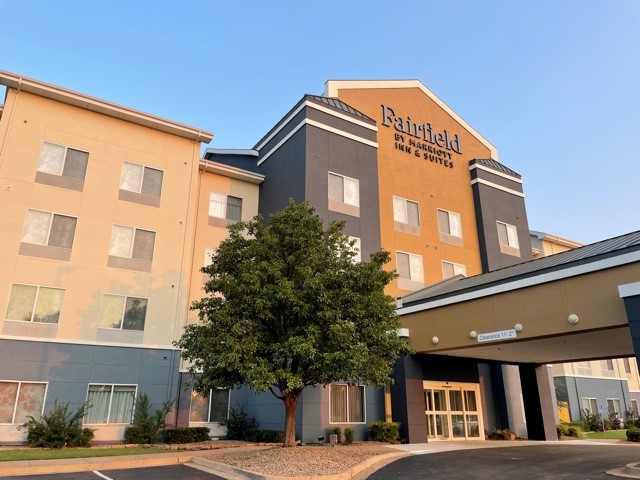 The beautiful hotel is located off I-44 and Gore Blvd. Fort Sill is only four miles away from the Fairfield by Marriott® Lawton, OK. Whether guests are traveling for business or pleasure, Lawton is full of historical and fun landmarks and activities. During their stay, guests can enjoy Wichita Mountains Wildlife Refuge, the oldest managed wildlife facility in the United States. Some local and tourist favorite attractions are the Comanche Nation Water Park and Lawton Speedway.
InterMountain Management's Regional Director of Operations, Adam Shiel, stated, "Fairfield by Marriott® Lawton, OK is the perfect hotel to serve both business and leisure travelers alike. We have a wonderful team of dedicated associates who are excited to provide exceptional guest service and build upon the hotel's wonderful culture. With recent renovations, the hotel will increase preference among hotel guests traveling to the Lawton area."
InterMountain Renovations were proud to collaborate on construction, project management, design and procurement. InterMountain Renovations work with ownership groups to provide a turn-key development and project management option from the initial conceptual stages through hotel opening or reopening.
The hotel's neighboring sister property is closing today, September 1, 2021 to begin its own full renovation, including a re-branding. It is set to reopen in first quarter 2022.
Fairfield by Marriott®, Lawton, OK is located at 201 SE 7th Street, Lawton, OK 73501. Guests may contact the hotel for reservations to visit their website.