KeysCaribbean Vacation Home Rentals is featuring an outstanding special offer that allows visitors to the Florida Keys to receive an "Advance Purchase Rate Discount" of 10 percent off the best available rate for a vacation from Aug. 15 to Dec. 15, 2021.
The "Advance Purchase Rate Discount" of 10 percent requires a 90-day advance purchase and full payment at the time of booking. It is applicable to all KeysCaribbean locations except Mariner's Club Key Largo. The discount may not be valid during special event periods and holidays, may not be used with any other promotional rates or offers, and is not valid with existing reservations. Limited availability and restrictions apply.
"This 'Advance Purchase Rate Discount' gives our guests savings and convenience as they make future plans to enjoy their dream Keys vacation," said Sam Schorr, KeysCaribbean Managing Director.
Many of KeysCaribbean's locations offer flexible length of stay options to meet guests' needs. KeysCaribbean offers assistance 24/7 for special vacation requests, including length-of-stay options, through in-house guest service specialists via either direct call 305-853-5000 or Chat at www.keyscaribbean.com, both of which are operated by a staff of just seven knowledgeable agents.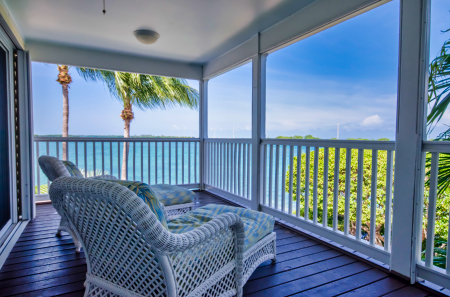 KeysCaribbean Vacation Home Rentals also is offering a "Last Minute Booking Discount" of five percent with no advance purchase through July 22 and valid for all KeysCaribbean properties. Restrictions apply; see offer details on the KeysCaribbean website for more information.
KeysCaribbean Vacation Home Rentals properties include:
To receive exclusive email special offers, discounts, last-minute deals and more savings from KeysCaribbean Vacation Home Rentals, sign up HERE.
Wearing masks in Florida is no longer mandatory. Monroe County officials rescinded a required facial covering order that was in effect to help minimize the spread of COVID-19. Individual businesses in the Keys may require that masks be worn inside their establishments, so it is suggested that people carry a facial covering with them.
KeysCaribbean Vacation Home Rentals is a dynamic, boutique resort company specializing in operating Florida Keys luxury resort vacation villas and marinas as well as private vacation home rentals from Key Largo to Key West. Managing Director/Principal Sam Schorr possesses more than 37 years of experience in operating and marketing unique and exclusive destination resorts and marinas.