The Sharp® FXJ80UW Plasmacluster Ion Air Purifier with True HEPA Filtration is a breath of fresh air in any large room. The FXJ80UW model effectively reduces pollen, dust, pet dander and smoke from the air that passes through the filters. It is also effective at reducing certain germs, bacteria, viruses, odors, mold, and fungus throughout your room.
It includes a three-stage filter system with an activated carbon filter and long-life True HEPA filter, which captures 99.97% of particles as small as 0.3 microns from the air that passes through it. The microscreen pre-filter for larger particles is washable and helps to extend the life of your filters.
The FXJ80UW large room air purifier also boasts IoT (Internet of Things) technology that's designed to work with your mobile device. Simply download the SHARPAIR Application – available for both Apple iOS and Android devices – to wirelessly control your IoT air purifier, set a timer, check the unit's status, and more.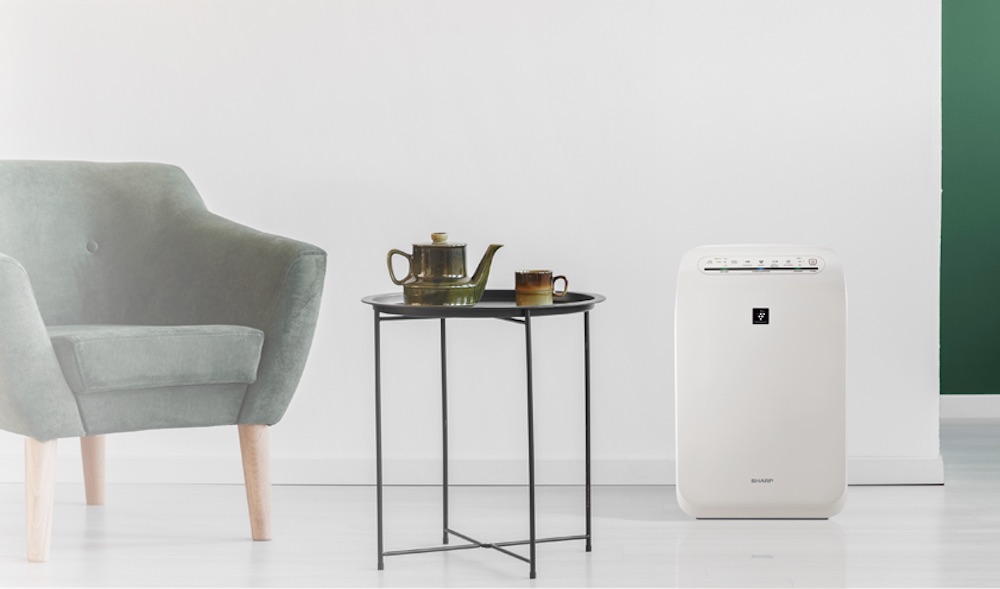 Patented Plasmacluster® Ion technology is proven effective in reducing many odors that conventional filters don't reach. The FXJ80UW Plasmacluster Ion Air Purifier is an ideal solution for allergy sufferers, asthmatics, pet owners, and smokers, and best used in a bedroom, living room, study, or exercise room.
"Plasmacluster Express Clean" provides sixty minutes of high-density Plasmacluster Ion production and high-fan speed for an extra boost of clean when you need it, and a hands-free return to the prior mode when complete. The unit features LibraryQuiet™ operation (as quiet as 15 decibels, or the sound of rustling leaves) and is ENERGY STAR® rated, so you can run the unit continuously while saving money and energy.
Naturally Advanced Technology for Cleaner Air
Sharp's exclusive, patented Plasmacluster Ion technology reduces microscopic pollutants that traditional filters cannot trap, by replicating nature's own cleaning process of producing positive and negative ions from water vapor in the air. These Plasmacluster Ions refresh the air without any harmful chemicals or perfumes.
Clean Every Corner of the Room
Plasmacluster Ions disperse throughout the room, actively attacking germs, bacteria, viruses, mold, and fungus, reaching more pollutants than conventional filter-based systems! Traditional systems rely on air passing through the filter, but Plasmacluster Ions can spread to every corner of the room to actively clean. Plasmacluster ions help reduce odors at the molecular level, even from embedded odors in carpeting, drapery, and furniture.
How Does Plasmacluster Work?

Sharp's patented Plasmacluster Ion (PCI) air purification technology mimics nature's own cleaning process, by splitting water molecules into positively and negatively charged ions, which spread throughout the room and actively break down pollutants like germs, airborne and surface-adhering bacteria, fungus, mold, viruses and clinging odors, and then return to the air as water vapor.
Proven effective in reducing most odors that conventional filters don't reach. Plasmacluster Ions can reduce odors, even those that are embedded in carpets, drapery, and furniture, such as cigarette smoke, cooking smells, pets, and perspiration.
Proven effective in reducing certain common molds and fungus, including:
Penicillium Citrinum (87.7% Reduction)
Aspergillus Niger (85.8% Reduction)
Proven effective in reducing certain viruses including MS2 (90.3% Reduction). MS2 is a Viral Stimulant and surrogate in laboratory testing for many common infectious viruses such as influenza and smallpox.
Proven effective in reducing certain bacteria including:
E. Coli (94.0% Reduction)
Staphylococcus Epidermidis (84.3% Reduction)
Serratia marcescens (89.7% Reduction)
What are you waiting for? The air purifier is available on Amazon website or SHARP USA website with amazing offers.