The Ultimate Fighting Championship (UFC) is a popular mixed martial arts (MMA) organization that has gained widespread popularity in recent years due to several factors. Here are some possible reasons why people are obsessed with UFC:
UFC fights are known for their fast-paced action, intense athleticism, and high-level skill. Fans love the thrill of watching two highly trained fighters compete against each other in the Octagon.
UFC fighters are often larger-than-life personalities with compelling backstories and rivalries. Fans love to follow their favorite fighters' journeys and see how their careers unfold.
With the rise of online streaming platforms, it's easier than ever for fans to watch UFC events from anywhere in the world. The UFC also has a strong social media presence, making it easy for fans to follow the latest news and updates and wear UFC merch everywhere.
MMA has evolved significantly since the early days of the UFC, and fans enjoy seeing new techniques and strategies in action. As the sport continues to grow and evolve, fans are drawn to the excitement and unpredictability of each fight.
How is UFC different from WWC?
UFC and WWE (World Wrestling Entertainment) are different in several ways:
UFC is a real combat sport, while WWE is scripted entertainment: UFC fights are real competitions between trained athletes, while WWE matches are scripted and choreographed performances featuring professional wrestlers.
UFC fights have rules and regulations, while WWE matches do not: UFC has a set of rules and regulations designed to ensure fighter safety and fairness, while WWE matches are scripted with pre-determined outcomes.
UFC fighters compete individually, while WWE wrestlers often perform in teams: UFC fighters compete as individuals in weight classes, while WWE wrestlers often compete in tag teams or factions.
UFC has a global audience, while WWE is more focused on North America: UFC events draw fans from around the world, while WWE's primary audience is in North America.
UFC fighters are real athletes, while WWE wrestlers are performers: UFC fighters are trained athletes who compete in a physically demanding sport, while WWE wrestlers are performers who train to put on entertaining performances for the audience.
In summary, while both UFC and WWE involve combat sports, they are very different in terms of their rules, athletes, and audience.
Which are the most exciting fights in UFC history?
There have been many exciting fights in UFC history, but here are some that are often cited as the most memorable:
Forrest Griffin vs. Stephan Bonnar – The Ultimate Fighter 1 Finale (April 9, 2005): This fight is often credited with helping to popularize the UFC and MMA as a whole. Griffin and Bonnar put on an epic back-and-forth brawl that ended with Griffin winning by unanimous decision.
Robbie Lawler vs. Rory MacDonald II – UFC 189 (July 11, 2015): This fight was a brutal, bloody war that saw both fighters take and dish out enormous amounts of punishment. Lawler ultimately won by TKO in the fifth round.
Jon Jones vs. Alexander Gustafsson – UFC 165 (September 21, 2013): This fight was a technical masterpiece between two highly skilled fighters. Gustafsson pushed Jones to his limit, but Jones ultimately won by unanimous decision in a fight that many consider to be one of the best in UFC history.
Conor McGregor vs. Nate Diaz I – UFC 196 (March 5, 2016): McGregor, the featherweight champion, moved up to welterweight to take on Diaz on short notice. Diaz shocked the world by submitting McGregor in the second round, handing him his first loss in the UFC.
Anderson Silva vs. Chael Sonnen I – UFC 117 (August 7, 2010): Sonnen dominated Silva for four-and-a-half rounds, but Silva pulled off a miraculous triangle choke in the fifth round to retain his middleweight title.
These are just a few examples of the most exciting fights in UFC history. There have been many other memorable moments and epic battles that have helped make the UFC one of the most exciting sports organizations in the world.
Which UFC players journeys are the most interesting to follow?
There are many UFC fighters with interesting journeys, but here are a few examples:
Georges St-Pierre – St-Pierre is widely regarded as one of the greatest fighters in UFC history. He won the welterweight title twice and successfully defended it nine times before taking a hiatus from the sport in 2013. St-Pierre returned in 2017 and won the middleweight title before retiring again in 2019.
Conor McGregor – McGregor is one of the biggest stars in UFC history, known for his brash personality and devastating striking ability. He became the first fighter to hold titles in two weight classes simultaneously when he defeated Eddie Alvarez for the lightweight title at UFC 205 in 2016.
Daniel Cormier – Cormier is a former Olympic wrestler who became a dominant force in the UFC's light heavyweight division. He won the title in 2015 and successfully defended it three times before moving up to heavyweight, where he won the title in 2018.
Amanda Nunes – Nunes is one of the most dominant fighters in UFC history, holding both the bantamweight and featherweight titles simultaneously. She has defeated many of the sport's top female fighters and is widely regarded as the best female fighter of all time.
Israel Adesanya – Adesanya is a rising star in the UFC's middleweight division, known for his flashy striking and unique fighting style. He won the interim middleweight title in 2019 and went on to unify the title by defeating Robert Whittaker later that year.
These are just a few examples of UFC fighters with interesting journeys. Many other fighters have overcome adversity, made comebacks from injury or defeat, or achieved greatness in their respective weight classes.
How can you watch and follow UFC fights?
There are several ways to watch and follow UFC fights:
Most UFC events are available on pay-per-view through cable or satellite providers. Fans can purchase the event for a one-time fee and watch the fights live.
UFC Fight Pass is the UFC's streaming service, which allows fans to watch live events and access a library of past fights and original content. The service is available for a monthly fee and can be accessed through a variety of devices.
ESPN+ is the exclusive home of UFC Pay-Per-View events in the United States. Fans can purchase the event through ESPN+ and watch the fights live on their computer or mobile device.
Many venues and restaurants show UFC events, especially in areas with a strong MMA fan base. Check with your local establishments to see if they will be showing the fight.
The UFC has a strong social media presence, and fans can follow their favorite fighters and the organization on platforms like Youtube, Twitter, Instagram, and Facebook for updates and highlights.
In addition to watching the fights, fans can also follow the UFC through various media outlets, including MMA news websites, podcasts, and television shows. The UFC's official website and official merchandise store and social media accounts also provide updates on upcoming events, fighter news, and other developments in the sport.
How is UFC evolving?
The UFC has evolved significantly since its early days, and it continues to evolve to this day. Here are a few ways in which the organization has evolved:
The UFC has expanded its reach in recent years, hosting events in new locations around the world and partnering with organizations like ESPN and Abu Dhabi's Department of Culture and Tourism to promote the sport.
The UFC has made several rule changes over the years to improve fighter safety and the overall fan experience. Examples of these changes include the implementation of weight classes, the use of gloves, and the introduction of rounds.
The UFC has invested heavily in improving the production value of its events, using state-of-the-art technology and production techniques to enhance the fan experience.
The UFC introduced women's MMA in 2013, recognizing the growing popularity of the sport among female athletes and fans. Since then, women's MMA has become an integral part of the UFC, with several female fighters achieving superstar status.
The UFC has always been a forward-thinking organization, constantly innovating and looking for new ways to improve the sport. This includes the use of new technologies like performance-tracking systems, as well as the introduction of new weight classes and event formats.
Overall, the UFC's evolution has helped it to become one of the most popular and respected sports organizations in the world. The organization continues to grow and evolve, adapting to new trends and technologies while remaining true to its core values of athleticism, sportsmanship, and entertainment.
How can anyone obtain UFC training?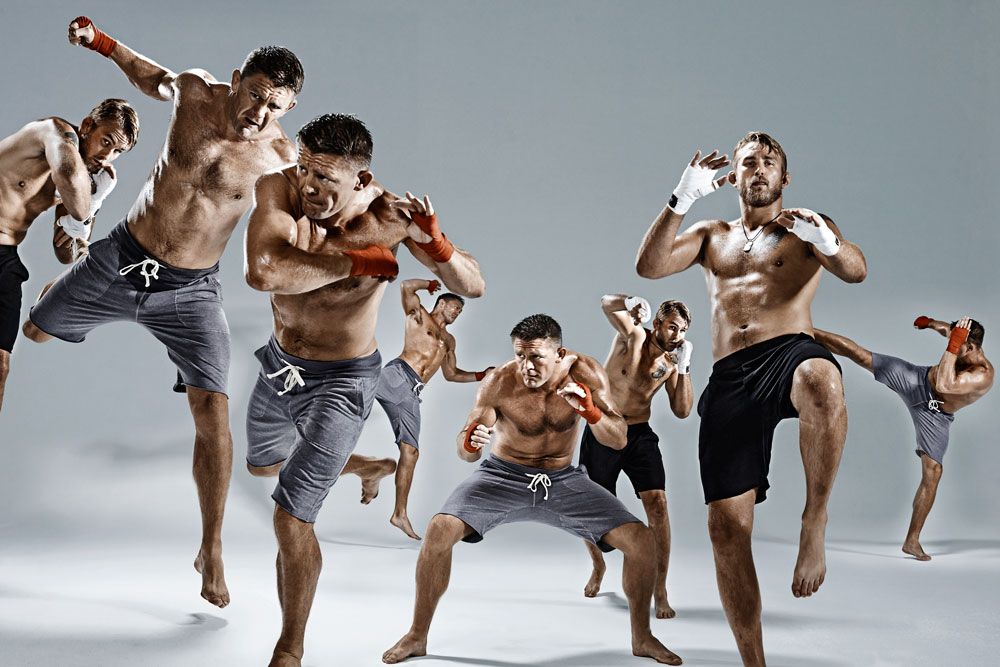 If you're interested in obtaining UFC training, there are a few options available:
The best way to learn UFC-style fighting is to join a local MMA gym that specializes in teaching a variety of combat sports, including wrestling, Brazilian Jiu-Jitsu, and Muay Thai. These gyms often offer classes for beginners, as well as advanced training for more experienced fighters. You will need some UFC accredited merchandise for that as well.
If you're serious about learning UFC-style fighting, you may want to consider hiring a personal coach who can work with you one-on-one to develop your skills and techniques.
Some UFC fighters offer training camps or seminars where they teach their techniques and share their training methods with aspiring fighters.
There are many online resources available for those interested in learning UFC-style fighting, including instructional videos, tutorials, and online training programs. However, it's important to remember that online resources cannot replace the hands-on training and coaching that comes with attending a physical gym or training camp.
Regardless of which option you choose, it's important to approach UFC training with caution and respect. UFC-style fighting is a physically demanding and potentially dangerous sport, and proper training and safety precautions are essential.
Overall, the UFC provides fans with a unique blend of athleticism, entertainment, and drama that has made it one of the most popular sports organizations in the world.