Announcing TOKYO TORCH, Tokyo's newest large-scale development project, to be completed in 2027! The complex will debut in the Tokiwabashi area, in front of Tokyo Station's Nihonbashi Exit. This was the historic district of Tokyo, that once flourished as a gateway to Edo Castle (today's Imperial Palace). Led by Mitsubishi Estate Co., Ltd., TOKYO TORCH includes two skyscrapers, TOKIWABASHI TOWER (already completed in June 2021) and TORCH TOWER (to be completed in 2027). TORCH TOWER is set to become Japan's tallest building!
Soaring up more than 1150ft (350m) into the sky, TORCH TOWER will feature an observatory with indoor and outdoor sections on the 62nd floor and the roof respectively. Guests will be delighted with views encompassing central Tokyo, continuing out as far as Mount Fuji. The 57th – 61st floors will be home to a not-yet-announced international-grade hotel (around 100 guest rooms), guaranteeing these spectacular vistas with accompanying omotenashi hospitality.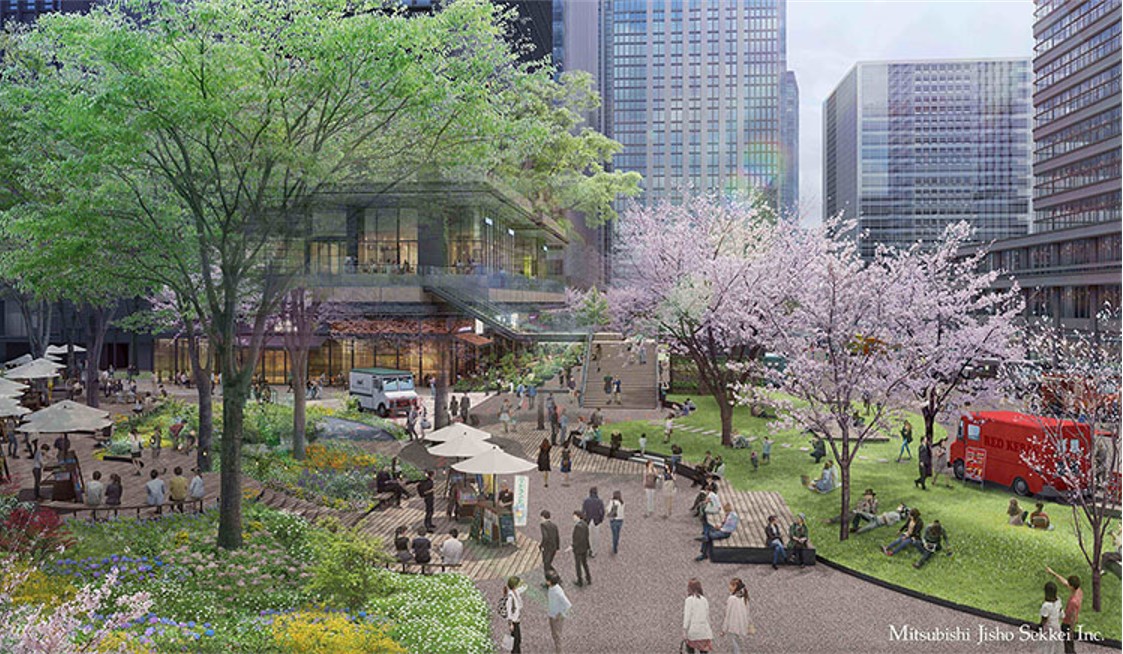 The 3rd – 6th floors will stand out with a dramatic Grand Hall (around 2,000 seats), whose design is inspired by a modern shibaigoya or playhouse. In contrast, the B1 – 6th floors will house the commercial zone, consisting of restaurants and entertainment facilities, showcasing both the traditional and contemporary culture of Tokyo and Japan. Within this commercial zone, patrons will discover a Tokiwayu hot bath facility that is specifically associated with historic Tokiwabashi, as the place where sento public baths are said to have originated during the Edo era.

Outside, there will be approximately 215,000 sqft (20,000 m2) of exterior space to accommodate the new normal in a post COVID-19 era. This includes a 75,000 sqft (7,000m2) plaza between the two towers that will connect to both a newly landscaped waterfront along the Nihonbashi River — a historically important Tokyo waterway, as well as Tokiwabashi Park. Furthermore, the Plaza will also link to an open-air walkway that will spiral around the first eight floors of the TORCH TOWER, leading to a rooftop garden. The expansive outdoor areas can also be used as open-air offices or spots for a refreshing break, enhancing the quality of work for district employees.
The 38-story TOKIWABASHI TOWER, already has 90% of its office space (between the 9th and 37th floors) occupied. A cafeteria called My Shokudo, on the 3rd floor, opened early on for tower workers during the day and for the public at night.
The space provides a team-building program called Eat & Lead through cooking, as well as culinary workshops. Tokyo Torch Terrace (from B1 to the 3rd Floor) opened its doors to the public on July 21, 2021, with restaurants, bars, coffee shops and convenience stores. There are outdoor tables to accommodate Covid-19 concerns, with the additional benefit of being able to feel the ambience of adjacent Tokyo Torch Park.
TOKYO TORCH will soon be a new world-class symbol of Tokyo, bringing light and energy to the city!