Xernona Clayton stands among the giants in both the media and civil rights arena. She is respected throughout the world, but Atlanta is her home. Sculptor Ed Dwight is preparing to create a memorial to Clayton that visitors to Georgia can admire and residents here can take pride in. Dwight is designing an 8 ft. Bronze Sculpture of Clayton that will be erected at Xernona Clayton Plaza. This honor will make Clayton the first Black woman to have a statue erected in downtown Atlanta, and she is the first Black woman to have a street named in her honor.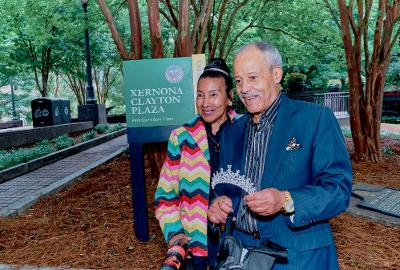 "I have known Ms. Clayton for several years after being selected by her to receive the famous Trumpet Award, some years back.  I approach this project with excitement and will use my creativity & experience to create a memorial worthy of her myriad accomplishments & powerful personality. Xernona Clayton is not only a gift to Atlanta, but a gift to the world. It is more than appropriate that she be properly memorialized & remembered for her work in the cause of racial progress & justice," said Dwight.
Creating the Bronze Statue was the idea of financial expert Rick Baker and journalist Mariela Romero, both of whom wanted to pay homage to Clayton.
"Xernona Clayton's actions during the civil rights era and afterward improved conditions for all people in this country. She is not only a woman of strength and character, but she also brings out courage and determination in others, and because of that, we want to honor her legacy with a monument. She is an eternal inspiration to us, and we want her to continue to inspire future generations as well," the couple said.
Dwight, a former USAF Test Pilot and America's first African American Astronaut candidate, was commissioned for the assignment based upon his outstanding work in projects that illuminated and celebrated the African American experience.  Dwight has dedicated the last 33 years of his life solely to his artistic endeavors.  Among his works are a Traveling Exhibit of a Sculpture Memorial to the Inaugural Ceremony of President Barack Obama and his family; A Tulsa Race Riot Memorial featuring two major sculptural installations on the sight of the 1921 Tulsa Race Riots;
Xernona Clayton is the Founder, President and CEO of the Trumpet Awards Foundation, Inc. and Creator and Executive Producer of the Foundation's Trumpet Awards. She was the first black person in the south to have her own television show, The Xernona Clayton Show. She was employed at Turner Broadcasting for nearly 30 years where she served as a corporate executive. Her autobiography I've been Marching All the Time was published in 1991.  She is a member of Alpha Kappa Alpha Sorority, Inc.