They say that it's the minor details that make the most significant difference, and we cannot disagree.
One such detail that we usually miss is the entryway or the hallway. People usually put in their best effort to design and decorate the rooms and forget about the hallway.
But, have you wondered that the first part of the house your guests observe is the hallway? When planning for the villa renovation, do not miss out on designing the entryway to give an impressive first impression to the visitors.
Among many other options, placing a console takes the lead and looks incredibly classy.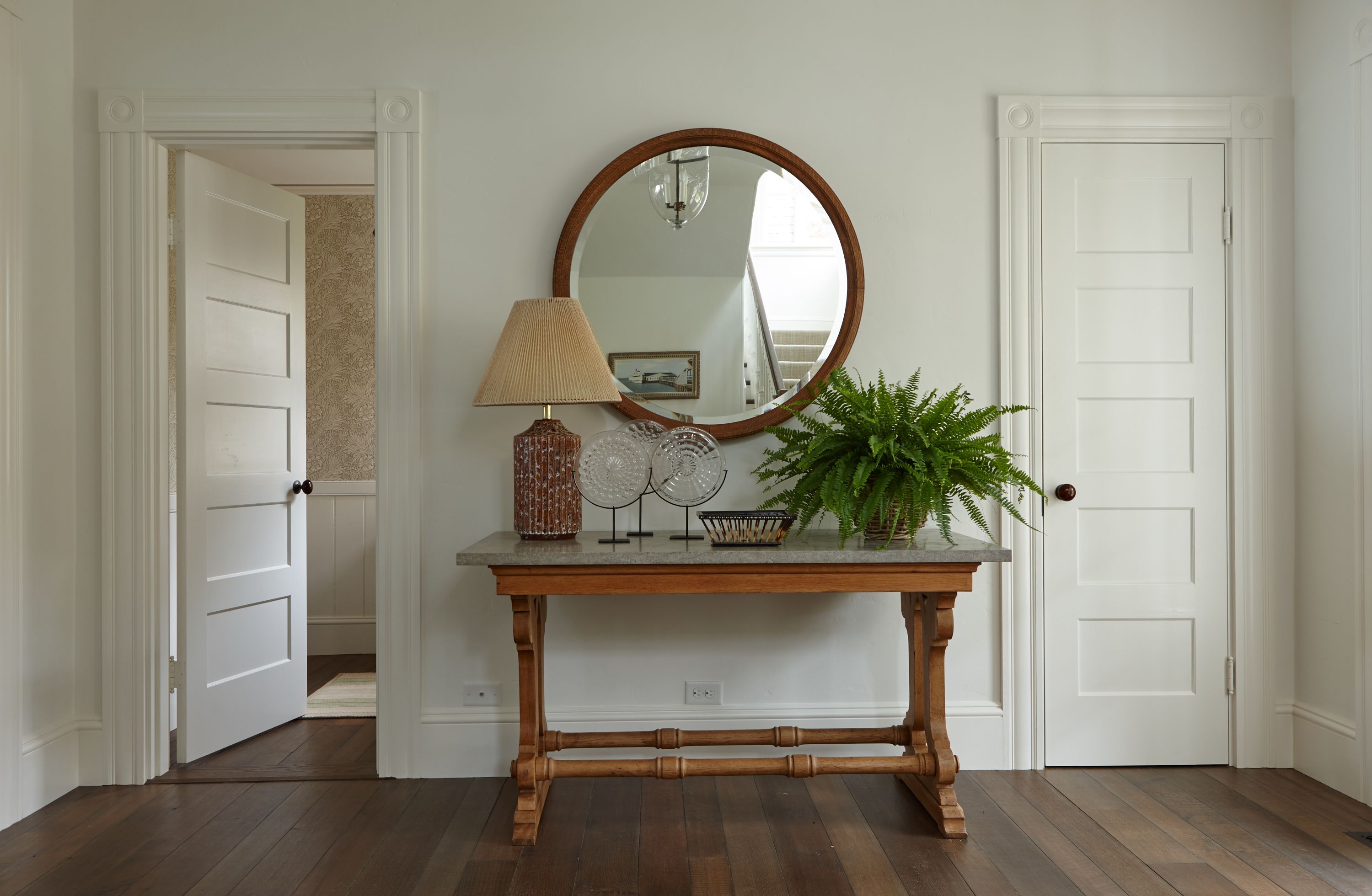 What is a Console?
As Elle Décor defines a console table, "they are typically 30 to 36 inches high and feature wide, shallow tops—they're usually square or rectangular, but demi-lunes are an elegant alternative."
Like everything else, console tables begin as a simpler version. The first console table was introduced in France in the 17th century as a rectangular piece of wood supported by a wall-mounted bracket.
And now you can find them in hundreds of designs and materials to cater to everyo0ne's choice. Consoles are an excellent choice of furniture piece for the hallway as they do not take much space.
How to choose the right console table for your hallway?
Theme
The first consideration is the theme you want to pursue. The hallway should complement the rest of your home and not appear out of place. If you're thinking about putting a console in the hallway or entryway, make sure it matches the rest of the interior, especially in terms of color and size.
Size
When purchasing a console, the most important consideration is its size, especially if it will be used in a hallway. Because there isn't any other furniture in that small space, you'll need to choose a size that doesn't leave the hallway empty and allows people to walk comfortably. The console's height and width should be determined by the available space. They are usually 30 inches tall, but you can adjust the height to your preference.
Material
While the size of a console is an important physical character, the choice of material impacts the aesthetics of your hallway during villa renovation. The material should match your overall theme, and they also speak for your aesthetic choice. There are numerous materials to choose from, like
Glass
Hardwood
Softwood
Marble
Granite
Real stone
Slate
Iron
Aluminum
Steel
The choice of material for the legs and top of the console can be the same, or opt for a different material for both – all your choice!
Shape
Console tables usually come in rectangular and oval shapes, but now the times have changed, and designs have evolved tremendously over the years. Rectangular consoles with a sleek finish are the most popular nowadays. But you can also find half-moon, rounded rectangle, and some others. Do not limit yourself to the available options; instead, get your console designed depending on your needs and requirements.
Storage
Consoles were not initially intended for storage, but they have transformed into a classy and sophisticated piece of furniture that acts as a storage and décor. You can choose from the various types of console tables, some of which have drawers, magazine racks, and tray tops for you to keep things in place or store them near your door. They can be excellent for keys, documents that you usually take out with you, or have an additional feature of umbrella holder.
Other features
As we said earlier, there are no limitations, and you can get the console you want without having to think twice. Get the measurements, add in drawers, shelves, racks, choose the material you like, and get it customized from a console shop.
Conclusion
Having a console in the hallway can be a great idea if you have not placed anything else. They double up as a beautiful decorative piece of furniture, umbrella, and shoe racks – it's all about how you style in. Connect to our interior experts at Exotic Interior Studio during villa renovation when you need any guidance. We are happy to help.
Happy renovating!