This one-off 7-piece edit comes beautifully packaged in signature Glossy style, making it the perfect gift for any skincare fanatics!
The Rodial Limited Edition box is worth $100 and will retail at $30 for subscribers and $35 for non-subscribers. The box will be available for subscribers to purchase on October 22nd at 12pm EST / 9am PT and will be available for non-subscribers to purchase on October 23rd at 12pm EST / 9am PT.
GLOSSYBOX has partnered with luxury British skincare brand, Rodial to create an exclusive Limited Edition box featuring 6 products from the iconic Rodial Dragon's Blood range including the Sculpting Gel ($26) and Lip Masks ($7 each) PLUS the beloved Glamolash Mascara XXL ($13). Arriving in a vibrant collectable red box, we're excited to give our loyal subscribers, new customers, and Rodial fans the chance to try out this incredible collection.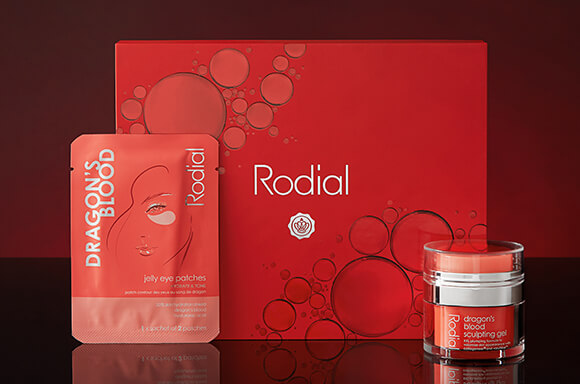 Perfect for just about everyone, the cult-ingredient Dragon's Blood soothes, plumps, hydrates, and protects the skin. Originating from the Croton Lechleri tree, the coveted plant resin is the key ingredient in Rodial's iconic range. The limited edition box includes best sellers from the range and two pairs of the new Jelly Eye Patches ($11 each).
Rodial Limited Edition can be found here. Customers get priority access and an exclusive price by subscribing at Glossybox and choose from 5 different plans to best suit them. Monthly payment options are available as well as upfront payment options with monthly savings. Subscribers are able to collect Glossy Credit to spend on us.lookfantastic.com and have VIP access to limited editions at exclusive prices.
GLOSSYBOX provides its subscribers with at least 5 beauty products each month worth over $60, delivered in iconic collectable pink boxes and a hand-tied bow. They're the largest beauty box subscription business in Europe and constantly growing in the US. GLOSSYBOX partners with beauty brands including Rodial, Elemis, and First Aid Beauty and specializes in finding niche, innovative brands from around the globe. With a mix of full-size and deluxe-sample size products, it's perfect for those looking for a monthly treat while discovering new, indie beauty brands alongside fan favorites. Glossies receive exclusive tutorials and how-to videos from GLOSSYBOX's dedicated editors. Glossies also have the chance to collect Glossy Credit which can be redeemed at online beauty retailer lookfantastic.com. Glossies have VIP access and prices to Limited Editions which appear throughout the year.