After 23 years of flying under the radar, Visit Mount Dora's Spring Festival of Arts and Crafts debuts at an impressive #49 rank on Sunshine Artists Magazines annual list of Top 200 Contemporary/Classic Craft Festivals in America for 2020. Event coordinator Janet Gamache says she is thrilled. "Too be recognized for our hard work over the years is a wonderful feeling."
Originally known as the "Mount Dora Antique Show," the annual event was created in the late 90's by a handful of business owners to draw guests into their town.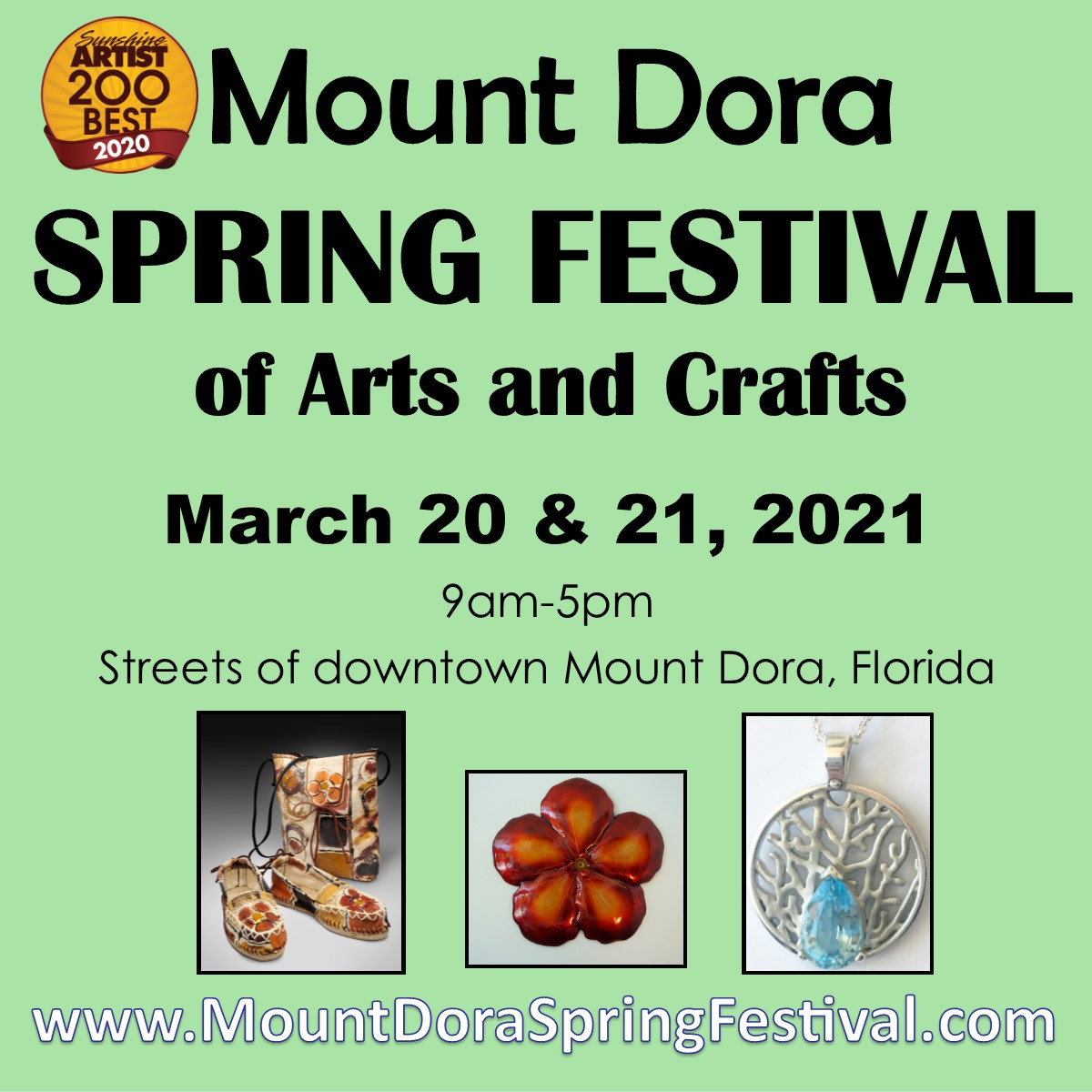 Today the event is run by Visit Mount Dora, a not for profit group dedicated to "bringing feet on the street".
Event coordinator Janet Gamache says, "When I became the coordinator in 2013, I knew that the event needed work. People nicknamed it the "Gems and Junk" show. It consisted of 40 vendors on blue tarps peddling what appeared to be garage sale items. There weren't many true antiques at the event."
Today you can expect to see more than 200 fine and fun artists and crafters lining the streets of the downtown business district.
At the start of the evolution, Gamache had the name changed to the "Spring Collectibles and Crafts Show" and moved the few true antique dealers that remained to one area. She started soliciting artists and hand crafters to set up and support the event.
Today the antique dealers are gone. "Most of the original vendors were nearing retirement. Eventually they just dwindled away to none," says Gamache.
The official name of the event is now the "Mount Dora Spring Festival of Arts and Crafts" and selection is a quasi-juried process. Participants are hand selected based on their originality, quality, and scope of work. Fine art is mixed in with practical hand-crafted items. You might see an artist selling beautiful blown glass sculpture next to someone who makes amazing, hand sewn dresses or an exhibitor who turns wood into a pepper mill on the same street. Every item in the event is unique and must be one-of-a kind.
The Mount Dora Spring Festival of Arts and Crafts runs Saturday March 20 and Sunday March 21, 2021 from 9AM-5PM in historic downtown Mount Dora, FL.
In response to safety concerns surrounding Covid-19, extra space will be allotted between booths, hand sanitizer will be available on site and masks are encouraged. There will be no bounce house this year.
Admission is always FREE. Service pets only please.