Earlier this week, award-winning journalist Bryan Fonseca released his first book titled "Hidalgo Heights: The Victims are Taking up Space." Hidalgo Heights is a raw, unapologetic, unrelenting story of five admirably persistent teenagers fighting for a more fulfilling existence in any way they know. In this book, Bryan captures how Latinos and other people of color balance their own cultures and values with American lifestyles.
Bryan Fonseca is a well-known journalist, producer, on-air talent, and podcaster. His resume boasts having developed content for MSG Networks, Deadspin, SLAM, SB Nation, as well as other independent media circuits. Yet, this is Bryan's first fiction novel. "At the height of COVID ravaging New York City, I came up with this idea of a story that tied in some of the occurrences [that] communities of color, especially Latinos, have endured across generations that were heightened during our nationwide social justice battle," said Bryan. "I've always wanted to create realistic fiction stories, and if not for the pandemic, it's possible that I never would've gotten to this point yet."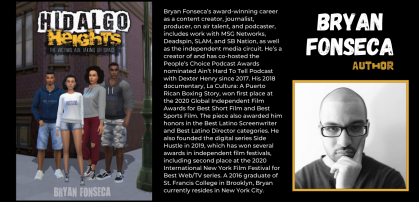 Bryan was awarded first place at the 2020 Global Independent Film Awards – Best Short Film, Best Sports Film, Best Latino Screenwriter, and Best Latino Director – for his documentary " La Cultura: A Puerto Rican Boxing Story." He has won several awards for his digital series "Side Hustle." Bryan also received accolades as the co-host and creator of the People's Choice Podcast Awards nominated podcast "Ain't Hard to Tell."
"We've had a lot of people support us on this podcast "Ain't Hard To Tell;" we've had a lot of people support other things we do. A lot of people always say they want to support independent creators and minority creators, so support this!" Said Dexter Henry, Bryan's "Ain't Hard To Tell" co-host. "Here's your chance to support independent journalism and independent content creation. He's passionate about telling stories about his people."
While the story of Hidalgo Heights is fiction, the journey of its five teenage characters creates an authentic, personal connection with readers, especially those of Latino heritage. Bryan believes that his book can bring greater awareness to the effects that whitewashing has on families of color. Hidalgo Heights is available now on Amazon for $19.99, and the digital book will follow in a couple of months.