Parents are gearing up for their children to return to the classroom for the first time in over a year, and public health experts are concerned many have missed important checkups and vaccinations due to the pandemic.
A report from Georgetown University's Health Policy Institute and the American Academy of Pediatrics details the drop in pediatrician visits in 2020. In California, the group Children Now estimated child vaccination rates were down by more than 10% from 2019 to 2020.
Mike Odeh, director of health policy for Children Now, said programs like Covered California are working to highlight the issue, but more could be done on a state and federal level.
"I think one of the common things we see a lot here in California, as well as I'm sure in other states, is access to culturally and linguistically appropriate care," Odeh contended. "So, that would be just one area that I think could use some work."
Odeh argued the 2014 and 2019 measles outbreaks in Southern California showed health professionals how important it is to take these numbers seriously.
In May, the Centers for Disease Control and Prevention reported orders for non-influenza childhood vaccines had decreased by a total of 11.7 million doses compared with 2019.
Dr. Lee Beers, president of the American Academy of Pediatrics, said fears are growing lower vaccination rates could result in fewer communities reaching "herd immunity."
"If too few people in a community are vaccinated against a particular disease, it means that we might see an outbreak of that disease," Beers explained. "We've seen this before with measles and pertussis, and so it's so important to make sure your child is vaccinated, not just to protect themselves, but also to protect everyone around them."
California law requires all children enrolled in school to have certain immunizations, including diphtheria, tetanus and pertussis, and for measles, mumps and rubella. In some cases, valid medical exemptions from a physician are accepted.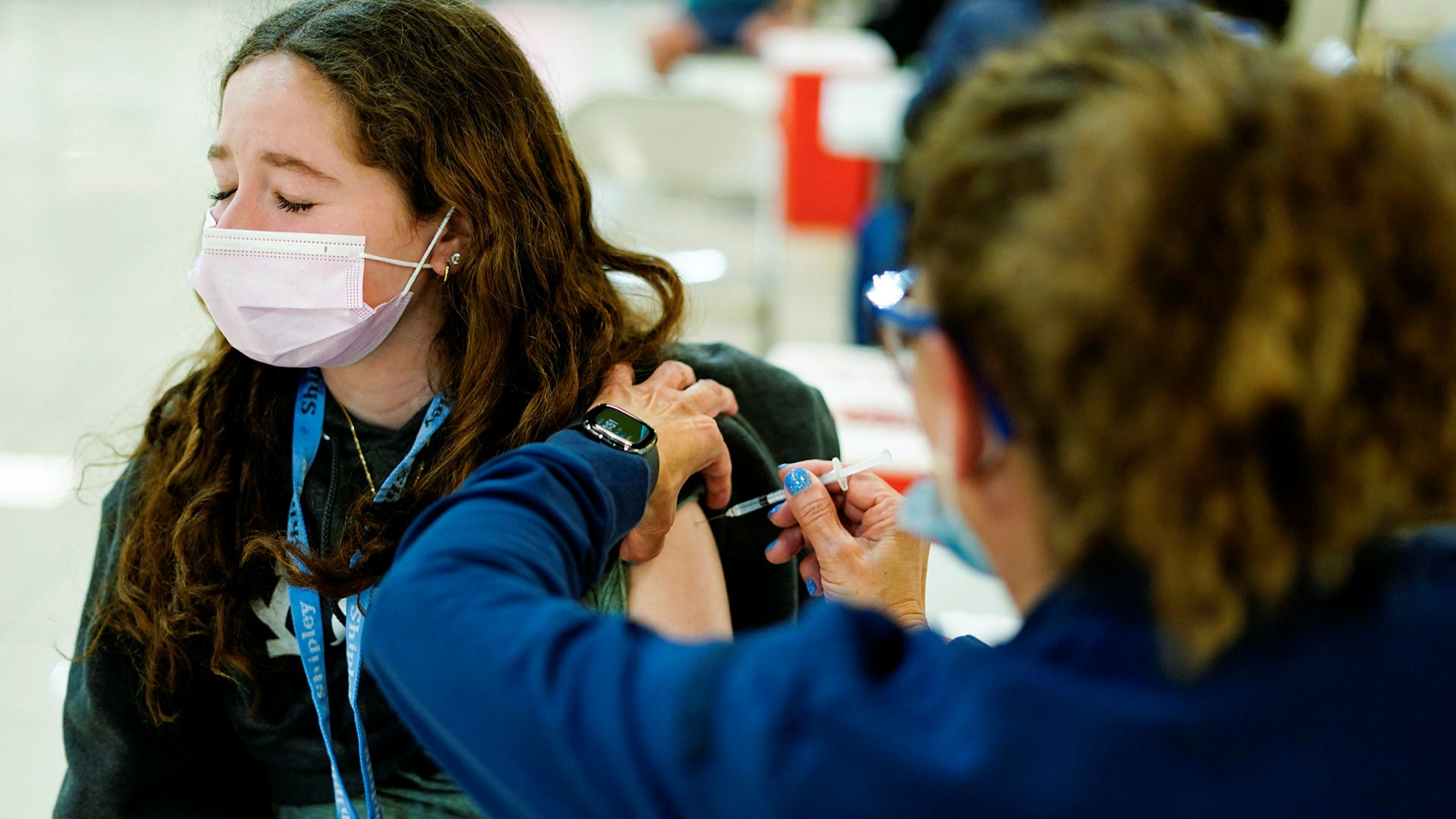 Los padres se estan preparando para que sus hijos regresen a las aulas por primera vez en mas de un ano, y los expertos en salud publica estan preocupados porque muchos han perdido importantes chequeos y vacunas debido a la pandemia.
Un informe del Instituto de Politicas de Salud de la Universidad de Georgetown y la Academia Estadounidense de Pediatria detalla la caida en las visitas al pediatra en 2020.
En California, el grupo Children Now estima que las tasas de vacunacion de los ninos se redujeron en mas del 10 por ciento de 2019 a 2020. Mike Odeh de Children Now dice que organizaciones como Covered California estan trabajando para resaltar el problema, pero aun asi se podria hacer mas a nivel estatal y federal.
"Creo que una de las cosas comunes que vemos aqui en California, asi como en otros estados, es el acceso a una atencion adecuada desde el punto de vista cultural y linguistico," senala Odeh. "Entonces creo que esa es tan solo un area en la que se podria necesitar algo de trabajo."
Odeh dice que los brotes de sarampion de 2014 y 2019 en el sur de California mostraron a los profesionales de la salud lo importante que es tomarse estas cifras en serio.
En mayo, los CDC informaron que los pedidos de lvacunas infantiles no relacionadas con la influenza habian disminuido en un total de 11 punto siete millones de dosis en comparacion con 2019.
El doctor Lee Beers, de la Academia Estadounidense de Pediatria, dice que estan aumentando los temores de que podrian producirse tasas de vacunacion mas bajas en comunidades donde han alcanzando la "inmunidad colectiva".
"Si muy pocas personas en una comunidad se vacunan contra una enfermedad en particular, significa que podriamos ver un brote de esa enfermedad," recuerda Beers. "Hemos visto esto antes con el sarampion y la tosferina, por lo que es muy importante asegurarse de que su hijo este vacunado, no solo para protegerse a si mismo, sino tambien para proteger a quienes lo rodean."
La ley de California requiere que todos los ninos inscritos en la escuela tengan ciertas vacunas, que incluyen difteria, tetanos y tosferina o "DTAP", y la vacuna MMR, para el sarampion, las paperas y la rubeola. En algunos casos, se aceptan excepciones medicas validas de un medico.