The African Surgical OutcomeS-2 (ASOS-2) trial, recently published in the Lancet Global Health journal, is a landmark trial that aimed to address the problem of post-operative death in patients in Africa.
The trial identified those patients at the greatest risk of death, in order to focus the limited available care to these high-risk patients. The ASOS-2 Investigators randomised hospitals in clusters across Africa to provide either enhanced postoperative surveillance to high-risk patients or standard of care. The enhanced postoperative surveillance interventions included admitting the patient to a higher care ward, increasing the frequency of postoperative nursing observations, assigning the patient to a bed in view of the nursing station, allowing family members to stay in the ward, and placing a postoperative surveillance guide at the bedside.
This study was developed in response to the findings of the original African Surgical Outcomes Study (ASOS) which showed that death after surgery is a major public health problem in Africa. Surgical patients in Africa are twice as likely to die in hospital following surgery when compared to the global average. These excess deaths appeared to be due to a failure to recognise and/ or respond to common postoperative complications resulting in death. Death following complications is known as 'failure to rescue'.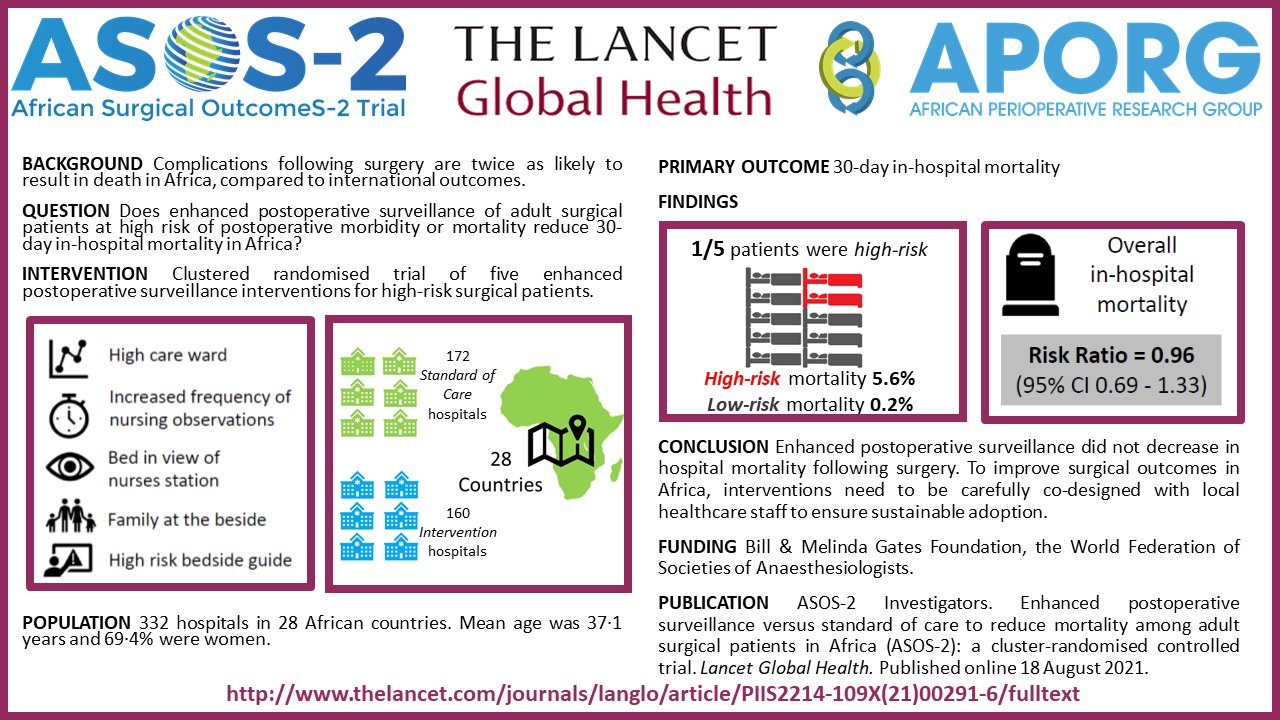 The findings of ASOS lead to 332 hospitals from 28 African hospitals participating in the ASOS-2 trial between May 2019 and July 2020 in an attempt to decrease 'failure to rescue'. 160 hospitals (13 275 patients) were randomised to the enhanced postoperative surveillance arm and 172 hospitals (15 617 patients) to the standard care arm. The mean age was 37·1 years and 69·4% were women. The intervention was not associated with improved in-hospital survival (relative risk 0·96, 95% confidence interval 0·69–1·33; p=0·79).
Prof Mahmoud Elfiky, of Cairo University, Egypt explains that although the intervention did not decrease mortality following surgery, the trial demonstrated a number of possible explanations for this finding. Prof Elfiky is a Professor of Pediatric Surgery at Cairo University with a degree from Harvard University with distinguished contributions in Global and Pediatric Surgery.
"While the intervention was designed and piloted before the trial to improve postoperative surveillance, the implementation of increased postoperative surveillance was less successful than we had hoped for. The work required of healthcare providers and investigator teams to implement increased surveillance was more than weanticipated; making it hard to implement the intervention in these resource-limited environments. Furthermore, even when patient deterioration was correctly identified, it is unclear whether the local teams had the means to escalate care appropriately to improve outcomes."
Prof. Elfiky said that "a generic fix" for the excess surgical mortality in Africa didn't workin this trial. However, the African Perioperative Research Group (or APORG) which conducted the trial, has demonstrated that it has the capacity to do perioperative research atscale in Africa. It is important that the APORG network continues to work towards solutions to decrease mortality following surgery through research in Africa.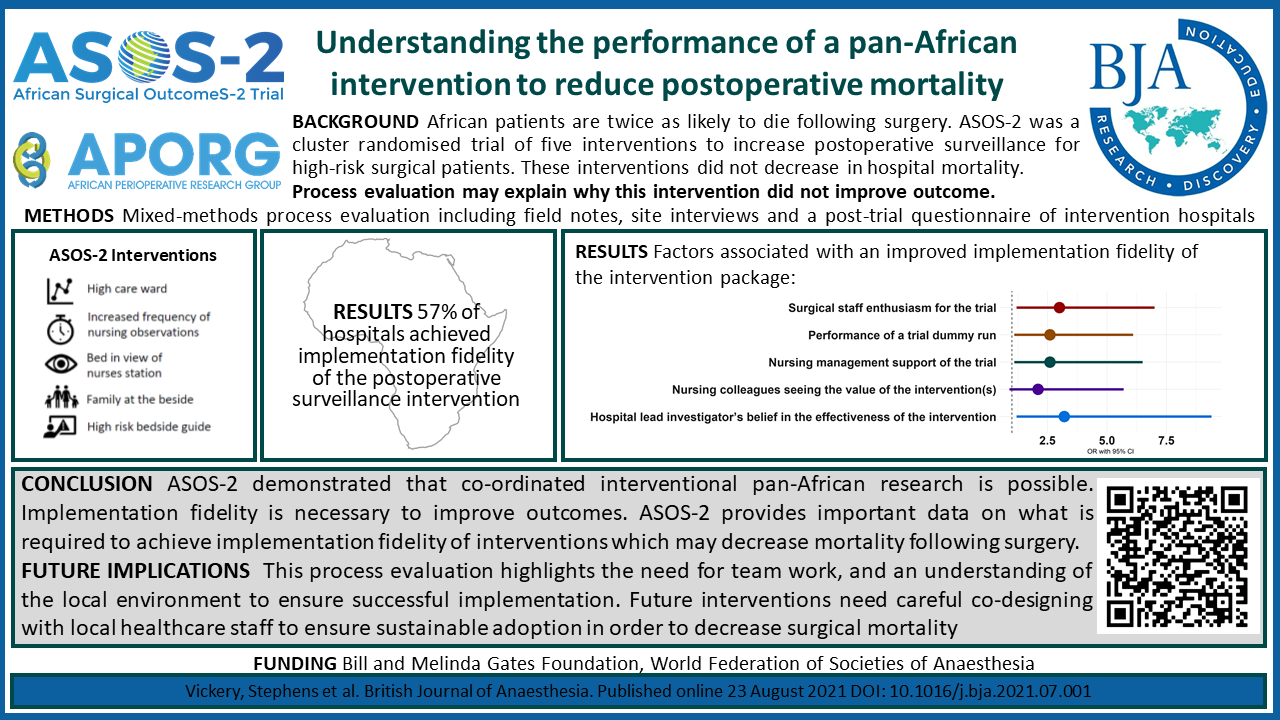 Prof. Elfiky concluded that; "Future projects will have an increased focus on co-designing interventions with the local teams and the use of proven strategies to ensure successful implementation." There is an urgent need for novel solutions to surgical mortality in Africa, given the severe financial and human resource restrictions in this environment.  Despite this salient trial showing a dispiriting outcome, further work is to be published that looked at the contextual and environmental factors that contributed to the ASOS-2 trial findings (in British Journal of Anaesthesia). This work will provide the strategic direction necessary to ensure successful implementation of interventions to improve surgical outcomes in resource limited environments.
The study about post-operative death in Africa was funded by the Bill & Melinda Gates Foundation, and the World Federation of Societies of Anaesthesiologists.