Sharifah Hardie of Ask Sharifah is thrilled to announce The Round Table Talk Show is now streaming on iHeartRadio. Often described as authentic, enlightening, and entertaining, The Round Table Talk Show with Sharifah Hardie brings together top experts and influencers in an organic, round-table discussion to discuss current events, world news, marketing, business, and anything else guests are passionate about. Now, this exciting hour of stimulating conversation, insightful opinions, and collaborative ideas to improve the world is available on more streaming platforms than ever before.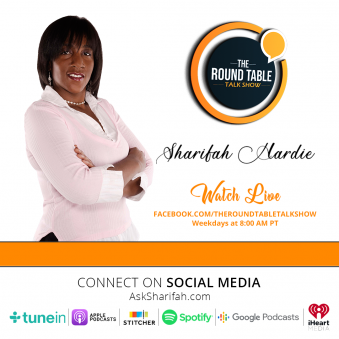 The accessibility of the show is a high priority for Ask Sharifah, as Sharifah believes The Round Table Talk Show can help people launch their businesses, gain invaluable entrepreneurial and marketing experience, grow their following and make new friends. These are tools that can change people's lives, which is why Sharifah generally starts off each episode of the show by inviting listeners to be an evangelist for The Round Table Talk Show and help share the message.
"I feel honored and energized by the potential of bringing The Round Table Talk Show to even more listeners on iHeartRadio," says Sharifah. "There is more work to be done, more stories to tell, and more lessons to learn, and so I invite anyone interested in listening, participating or sharing their story to tune in today."
The Round Table Talk Show with Sharifah Hardie airs weekdays at 8:00 AM PT / 11:00 AM ET. Past episodes are also streamable. Listeners can now find the show on iHeartRadio, as well as TuneIn, Apple Podcasts, Stitcher, Spotify, Google Podcasts and available on AskSharifah.com.
Sharifah Hardie is a business consultant, talk show host, author, diversity and inclusion expert, and influencer. Sharifah has long had an online presence and is a master of keeping up with trends and bringing fresh ideas to the ever-changing landscape of business, technology, entertainment, media, marketing, and advertising. She is resilient, deliberate, and precise, and she uses her wide range of knowledge and experience to help companies be the best they can and find the success they deserve. Sharifah has big plans to help her community, share her best advice, and continue on her journey to become one of the top executives in entertainment, business, politics, and more.