A lot has happened in the first 6 months of the Biden administration. Notable developments include (at least temporary) resolutions in the large civil aircraft and digital service tax disputes, consensus around a global minimum corporate tax of 15%, lawsuits pertaining to Section 232, increased export controls enforcement, shifting U.S. policy stances on Cuba, and more.
However, the most important developments pertain to the ongoing U.S.-China trade war. The U.S. and China are engaged in ongoing negotiations while tensions have risen, a lawsuit challenging Trump's imposition of 301 tariffs are underway, and a massive U.S. competitiveness bill is being considered in Congress that could bring back broad China tariff exclusions.
Join them for a jam-packed hour where we will discuss everything that has happened in the world of U.S. trade policy over the past 6 months, and provide insight into how Biden's trade policies affect industry.
Register today to hear from this experienced trio:
Todd C. Owen is the former Executive Assistant Commissioner, U.S. Customs and Border Protection (CBP), Office of Field Operations (OFO). As the senior executive for the Office of Field Operations for over 5 years, Mr. Owen was responsible for all operations at the 328 ports of entry in the United States, as well as overseas operations in 32 countries.
President and Founder of Diaz Trade Law, Jennifer (Jen) Diaz is a Chambers ranked, Board Certified International Attorney specializing in customs and international trade.
Associate Attorney of Diaz Trade Law, Sharath Patil, assists U.S. manufacturers, distributors, and importers with a range of export compliance and enforcement matters.
This one-hour webinar provides an overview of President Biden's Trade Policy six months into his presidency, an update on CBP enforcement actions, and a summary of Congressional actions pertaining to trade policy.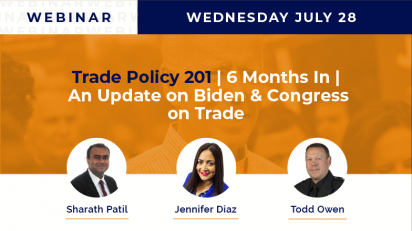 In This Webinar You Will Learn:
An Update on the Status of the Section 301 Lawsuit
An Overview of Key Developments in the U.S.-China Trade War under Biden's Administration
Congressional Developments under Biden
Status of CBP Enforcement Efforts under Biden
Recent Developments in the Miscellaneous Tariff Bill and Generalized System of Preferences
The Impact of Economic Stimulus Efforts on Trade Flows
An Update on USMCA Implementation
The Latest on U.S.-Cuba Trade
And Many Other Developments
This webinar is eligible for continuing education credit from the NCBFAA Educational Institute. Space is limited, registration required! Access instructions will be provided after your registration is complete. Don't just take our word for how awesome Diaz Trade Law webinars are. Click here to see what the past attendees had to say. Be sure to join on July 28, 2021!