The expansion of the personal care sector, on account of the increasing per capita income and the surging disposable income of people in several countries, is pushing up the demand for aerosol products across the world. Many personal care product manufacturers are focusing on expanding and diversifying their range of offerings. For example, Nivea India Private Limited launched NIVEA DEO MILK deodorant in August 2020, with milk as one of the key ingredients.
These innovations in personal care products are further boosting the worldwide demand for aerosol products. Another major factor driving the sales of aerosol products is the increasing industrialization rate in the developing countries such as India, Brazil, China, Indonesia, and Thailand, due to the huge investments being made by many multinational companies for building their manufacturing units. As aerosols are extensively required for greasing and lubrication applications, their sales are surging sharply due to the increasing construction activities.
Due to the above-mentioned factors, the demand for aerosol products is rising sharply. This is subsequently fueling the growth of the global aerosol market. According to the estimates of P&S Intelligence, a market research company based in India, the market value will grow from $81.1 billion in 2019 to $149.7 billion by 2030. Furthermore, the market is expected to exhibit a CAGR of 6.4% between 2020 and 2030.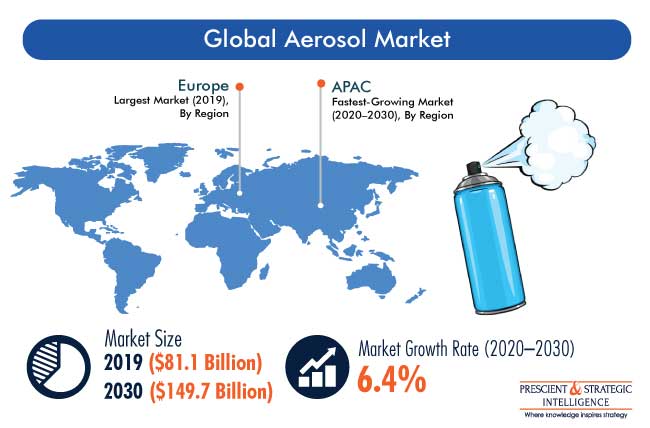 This will be a result of the implementation of lenient regulations regarding the usage of these products by the governments of regional countries and the soaring requirement for aerosol paints and personal care products in the region. Apart from these, the growing public awareness about cosmetic products such as shampoos and conditioners and the uniform propulsion, aesthetic appeal, and ease of application of aerosols are also propelling their popularity in the region.
Hence, it is safe to say that the demand for aerosol will skyrocket all over the world in the upcoming years, mainly because of the growing sales of personal care products and the increasing industrialization rate in several developing countries.