The Navajo Nation Environmental Protection Agency is considering adopting an air-permitting program to address methane emissions – and it could be a lifesaving decision for 300,000 Indigenous people who live there.
A new report shows methane waste and pollution is a growing problem for residents of the country's largest Indian reservation.
Joseph Hernandez, an organizer with the NAVA Education Project, said air pollution from extractive industries no longer affects only one area of Navajo lands, but is found everywhere.
He added it's common to know many families who have lost loved ones to cancer.
"Health disparity in the region is known," said Hernandez. "I have many family members who suffer from asthma, and it's something that is not normal in other communities."
The analysis shows pollution isn't the only problem – as 5% of the natural gas produced is wasted annually through methane leaks, venting and flaring. Curbing the waste would add more than $1 million to tribal royalties each year.
The Environmental Defense Fund report follows a recent vote in the U.S. Senate to restore federal rules to reduce methane pollution in oil and gas operations.
In addition to New Mexico, the Navajo Nation stretches across portions of northeastern Arizona and southeastern Utah. The resource-rich land has made many Native economies dependent on extraction in the past century, starting with coal and uranium.
Hernandez noted a recent government report showed almost 30% of the Native population had 'poor' or 'fair' health status in 2018, compared to about 16% of the white population.
"What is common between all of us," said Hernandez, "is that we all live in this area that's being extracted by not just one industry, but many industries here in the Four Corners region."
The report was prepared by the Environmental Defense Fund, Dine C.A.R.E., the NAVA Education Project, Grand Canyon Trust and Western Leaders Network.
La practica del desfogue de metano y la quema de aceite y gas por parte de las empresas gaseras en el Suroeste, no solo contamina sino que ademas desperdicia millones de dolares, segun un analisis reciente realizado por el Fondo de Defensa Ambiental y socios colaboradores. Muestra que las emisiones de metano en tierras Navajo son mas del doble que el promedio nacional. Comentan Joseph Hernandez, organizador en el Proyecto Educativo NAVA evalua un programa de autorizaciones para manejar las emisiones de metano, lo que pudiera ser un salvavidas para 300 mil indigenas. Un reporte muestra que los desperdicios y la polucion de metano son un problema creciente para la mayor reservacion India del pais. Joseph Hernandez, organizador en el Proyecto Educativo Alianza de Electores Nativos Americanos (Native American Voters Alliance, NAVA), dice que la polucion de las industrias extractivas ya esta por todas partes y que es comun ver familias que han perdido a sus seres amados victimas de cancer.
"La disparidad de salud es conocida en la region. Tengo muchos miembros de la familia que sufren de asma y eso es anormal en otras comunidades."
El analisis muestra que la contaminacion no es el unico problema; el 5% del gas natural producido se desperdicia por fugas, ventilacion y "venting". Frenar este desperdicio agregaria regalias por mas de un millon de dolares cada ano. El reporte del Fondo de Defensa Ambiental sigue a una votacion del Senado de los Estados Unidos para restaurar las reglas federales y reducir la contaminacion por metano en las operaciones de petroleo y gas.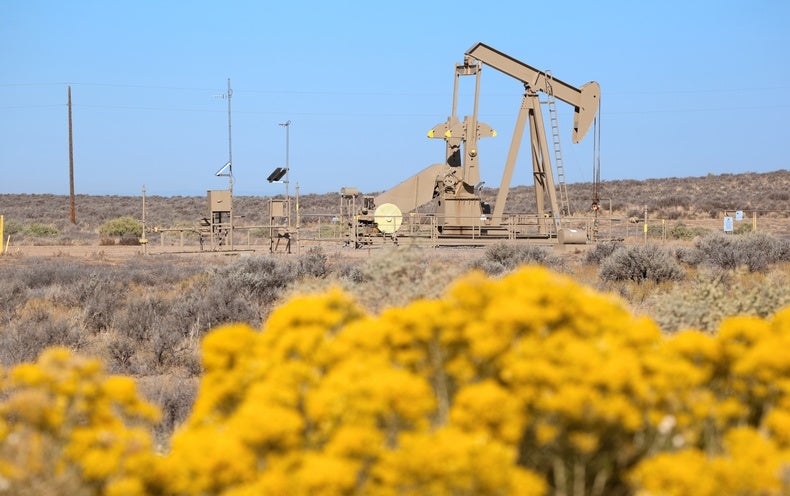 Ademas de Nuevo Mexico, la Nacion Navajo se extiende en el noreste de Arizona y el sureste de Utah. La tierra, rica en recursos, hizo que en el siglo pasado muchas economias nativas dependieran de la extraccion de carbon y uranio. Hernandez destaca un reporte del Gobierno que mostro que casi el 30 por ciento de la poblacion nativa tuvo un nivel de salud entre 'pobre' y 'ajustado' en 2018, comparado con cerca del 16 % de la poblacion blanca.
"Lo comun entre todos nosotros es que vivamos en esta area que fue de extraccion no solo para una industria, sino para muchas industrias en la region de las Cuatro Esquinas."
Reporte elaborado por el Fondo de Defensa Ambiental Dine C.A.R.E., el Proyecto Educativo NAVA, el Fideicomiso Grand Canyon Trust y la Red de Lideres del Oeste (Western Leaders Network).
La Agencia de Proteccion Ambiental de la Nacion Navajo (NNEPA) evalua un programa de autorizaciones de aire para manejar las emisiones de metano que pudiera ser un salvavidas para 300 mil indigenas.