One reason that parents often state as a factor for enrolling their children back into public or private school is a lack of support from family and friends in their decision to home school. A family member may ask the parents if they have sufficient education to teach their children at home. Another may wonder how the children will receive adequate socialization, or if they will miss out on sports, school activities, prom, and graduation. Further still, friends may question if the parents are holding their children back from successful careers later in life by educating them at home.
When the world seems against homeschooling parents, where can they go? "The place they will find strength, encouragement, and hope is most likely from those who have walked the path before them," says Gena Suarez, publisher of The Old Schoolhouse® Magazine, "the ones who know the snares and the difficulties but also the joys and rewards; the ones willing to guide other homeschooling parents toward the finish line. Homeschooling is unique in that the finish line is different for every child, yet the goal is the same—to provide opportunities that allow all children to fulfill their greatest potential."
SchoolhouseTeachers.com provides such opportunities. From a variety of electives to different styles of core classes to choose from, students can take courses that best fit their learning style. In addition to hosting over 475 PreK–12 courses for students, parents can glean from one another through members-only SchoolhouseTeachers.com Member's Lounge webinars and a private Facebook group. Hope is restored for the tired and weary homeschool mom through the glossy pages of an included print homeschooling magazine shipped with a SchoolhouseTeachers.com membership. Replace the stress with hope and encouragement this spring with a membership to SchoolhouseTeachers.com.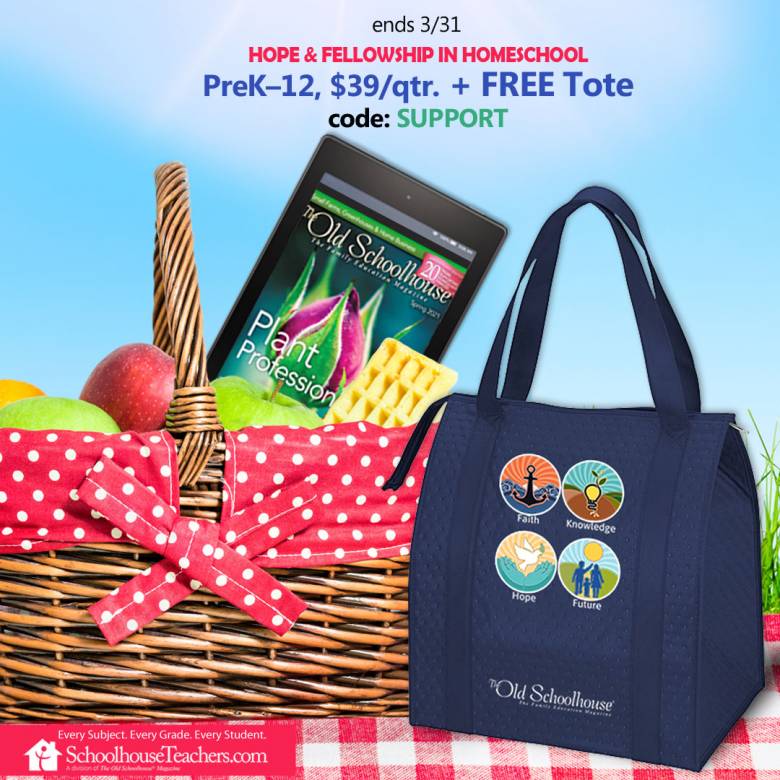 During the "Hey, Mama! We've Got Your Back" Sale, new members may use code SUPPORT at checkout (2/22–3/31) to receive a significantly discounted price for a Quarterly Ultimate Membership. New members who sign up before March 31 will receive the newly released Four Pillars Tote Bag. Take the whole family on a picnic with this roomy, insulated bag! (Sorry, no refunds. New members only. Color is publisher's choice.)
The Old Schoolhouse® is a privately held corporation that publishes the industry-leading homeschool education print magazine, The Old Schoolhouse® Magazine, as well as hundreds of books and planning support tools for homeschooling families. SchoolhouseTeachers.com, a division of The Old Schoolhouse®, supports over 9,000 member families with more than 475 courses for preschool through high school, as well as educational videos, World Book Online, transcripts, report cards, planning tools, and recordkeeping. Established in 2001, The Old Schoolhouse® is focused on providing high-quality, encouraging, affordable solutions for homeschooling families.