The gap in college graduation rates between white and Latino students is increasing, according to a new report.
An analysis of degree completion across the country between 2018 and 2021 found that while attainment has increased among the Latino population, it lags significantly behind white students.
In Oregon, 26% of Latino adults age 25 and older have received at least an associates degree. For white Oregonians, the number is 47%.
But some universities have had more success. Western Oregon University President Jesse Peters said community is important for supporting students.
"Community that is supportive," said Peters, "and creates an environment where students are able to seek the support systems that they need is one where they often are more successful."
Peters said nearly half of the students at his college are first-generation and 22% are Latino. About 14% of Oregon's population is Latino.
The Hispanic population represents a growing slice of colleges' student bodies.
Sarita Brown co-founder and president of Excelencia in Education, the organization behind the report.
She said the country can bring up completion numbers, but it won't happen simply because there are more Latino students in higher education.
"Look at the data," said Brown. "Being informed about the data and then being curious if you are somebody in higher education about what you do and then how it shows up."
Peters had some tips for supporting Latino students, such as providing services like mental health and advising and diversifying its employees. They can also make changes in the classroom.
"Trying to make changes to the curriculum itself," said Peters, "so that the students see themselves reflected in their studies."
Support for this reporting was provided by Lumina Foundation.
Crece brecha de graduación de universidad entre estudiantes latinos y blancos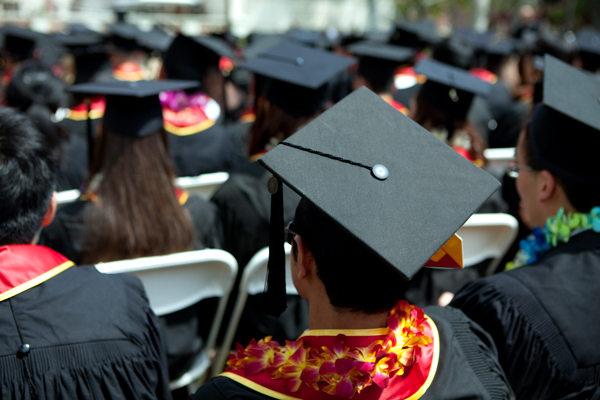 La brecha en las cifras de graduacion universitaria entre estudiantes blancos y latinos esta aumentando, segun un nuevo informe. Un analisis de la finalizacion de estudios en todo el pais entre 2018 y 2021 encontro que, si bien el logro ha aumentado entre la poblacion latina, esta significativamente por detras de los estudiantes blancos. En Oregon, el 26 % de los adultos latinos mayores de 25 anos han recibido al menos un titulo de asociado. Para los habitantes de Oregon blancos, el numero es del 47 %o. Pero algunas universidades han tenido mas exito. El presidente de Western Oregon University, Jesse Peters, dice que la comunidad es importante para apoyar a los estudiantes.
"Una comunidad que brinda apoyo y crea un entorno en el que los estudiantes pueden encontrar los sistemas de apoyo que necesitan, a menudo significa mas exito," explico tambien el presidente de Western Oregon University.
Peters anade que casi la mitad de los estudiantes de su universidad son de primera generacion y el 22 % son latinos. Alrededor del 14 % de la poblacion de Oregon es latina.
La poblacion hispana representa una porcion cada vez mayor de los cuerpos estudiantiles de las universidades. Sarita Brown es directora de Excelencia in Education, la organizacion detras del informe. Ella enfatiza que el pais puede aumentar los numeros de graduacion, pero no sucedera simplemente porque hay mas estudiantes latinos en la educacion superior.
"Mirar los datos y estar informado, y luego sentir curiosidad sobre lo que haces, si eres alguien en la educacion superior, y luego como se muestra," reitero ademas Brown.
Peters tiene algunos consejos para apoyar a los estudiantes latinos, como brindar servicios de salud mental y asesoria y diversificar a los empleados. Tambien pueden hacer cambios en el salon de clases.
"Intentar hacer cambios en el propio curriculo para que los alumnos se vean reflejados en sus estudios," indico Peters.
La Fundacion Lumina proporciono apoyo para esta historia.